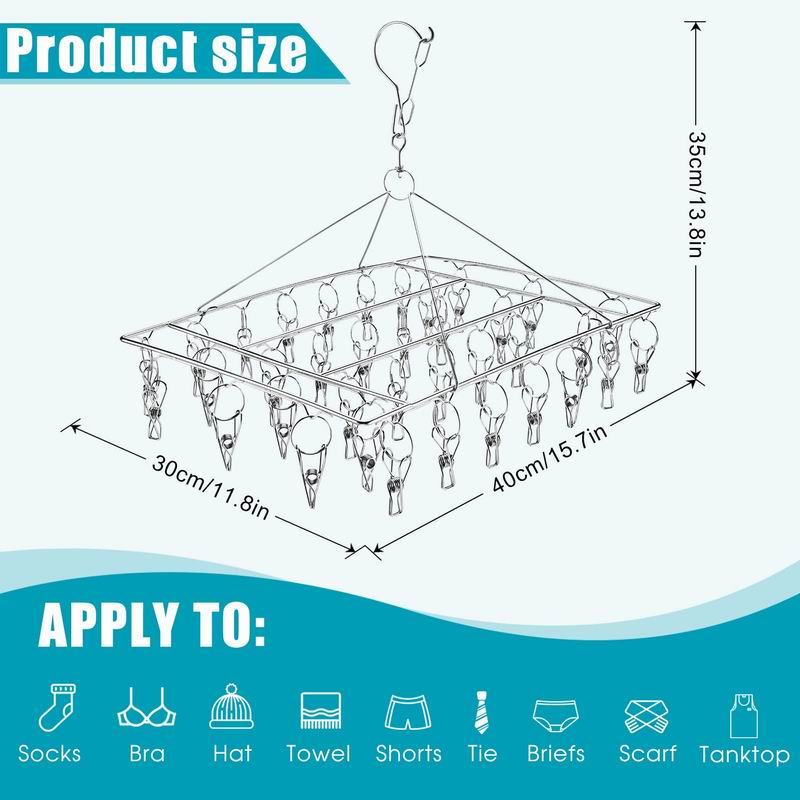 SUS304 Stainless Steel Hanger 36 Clips Peg Heavy Duty Windproof Rust-Proof Laundry Drying Rack Hanging Organiser Balcony
---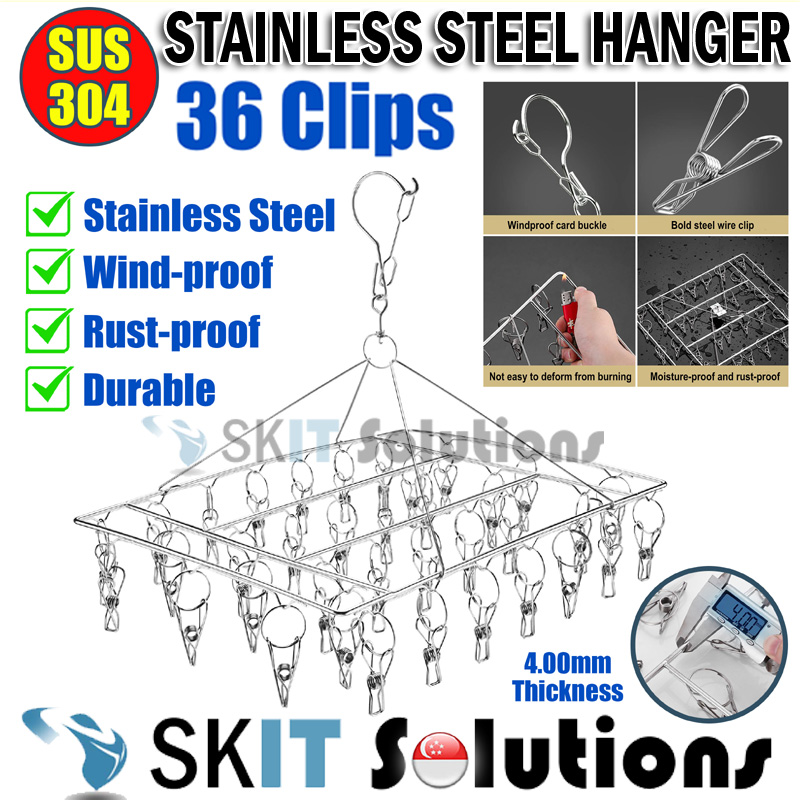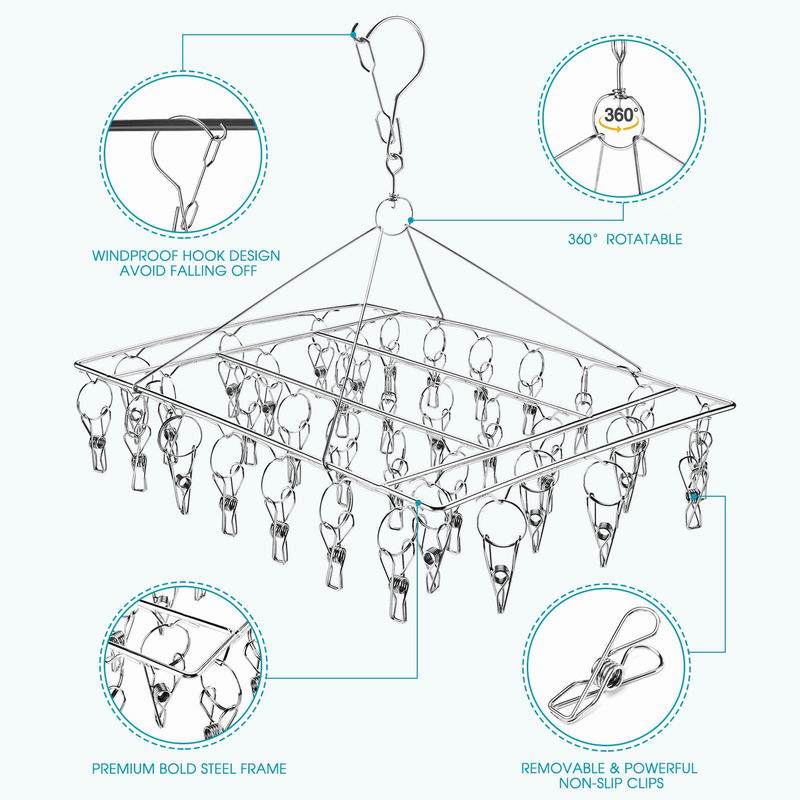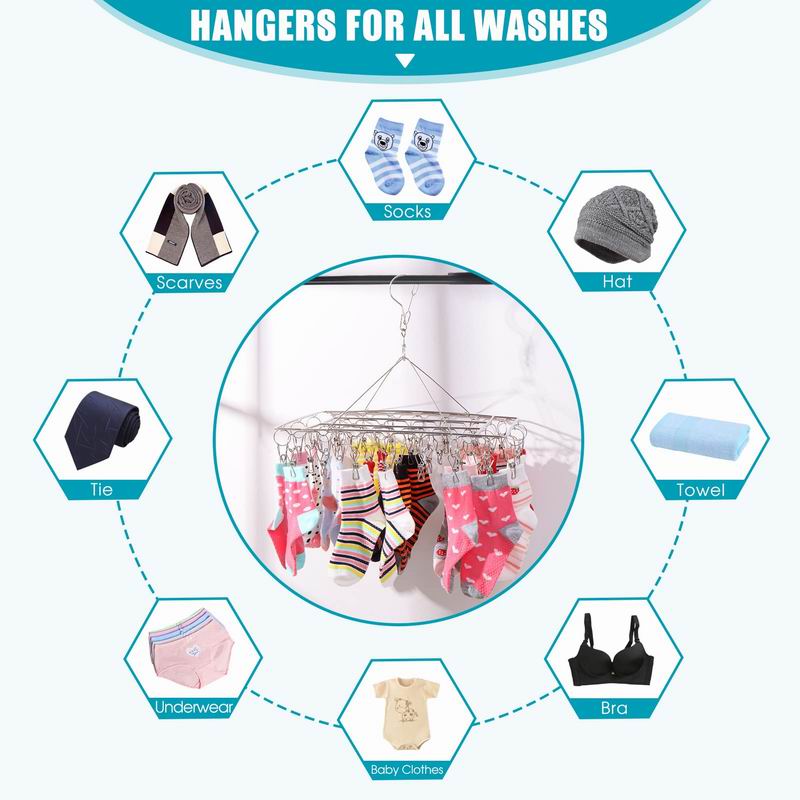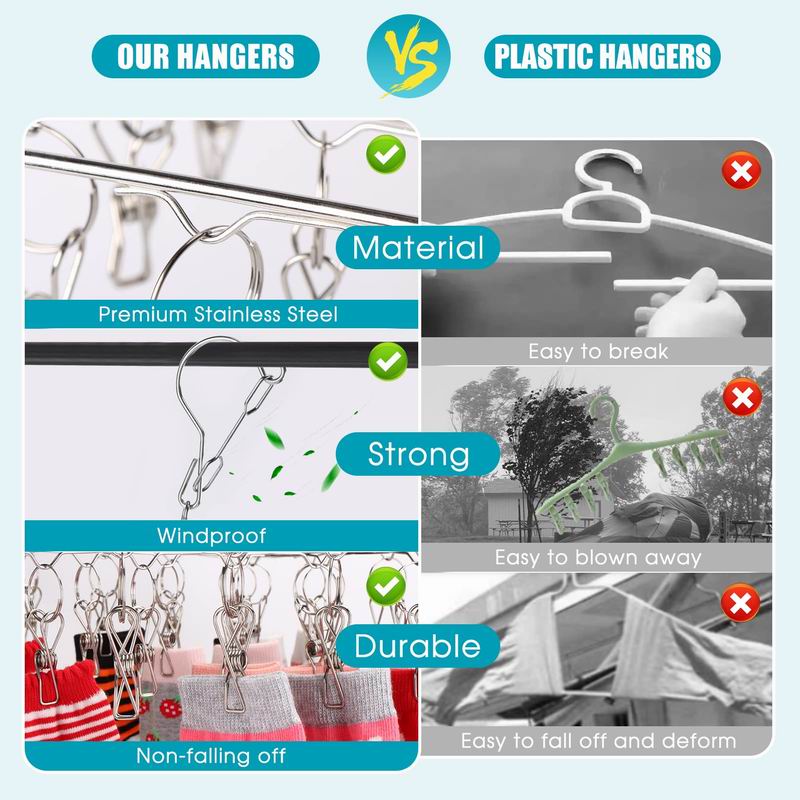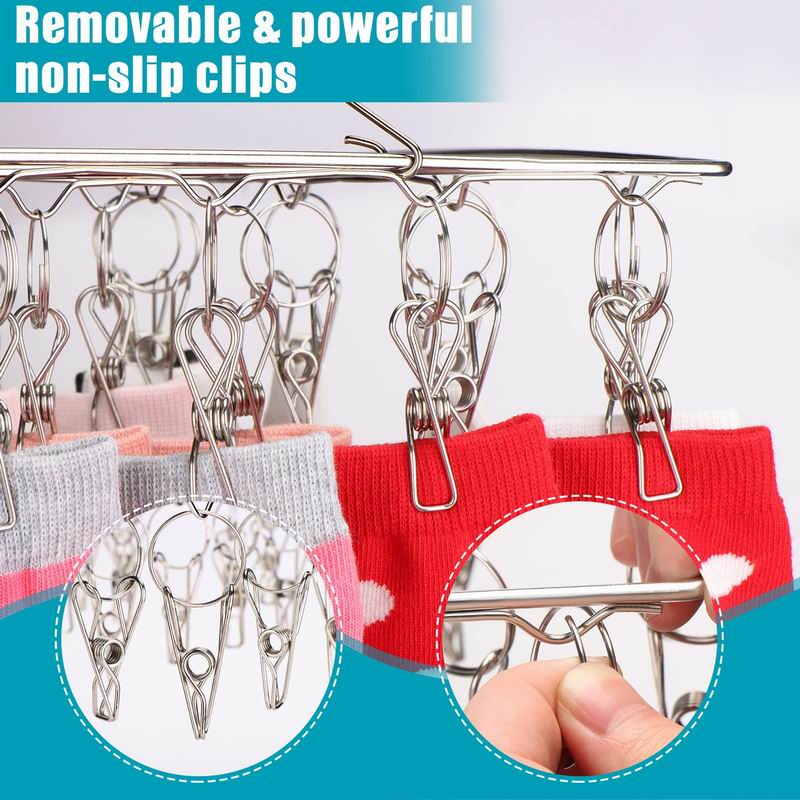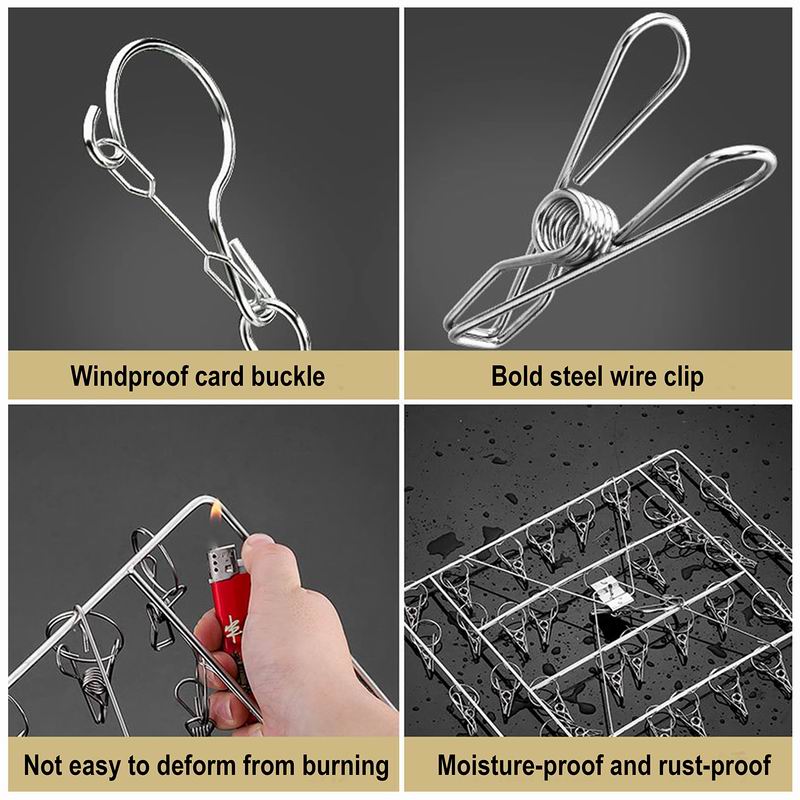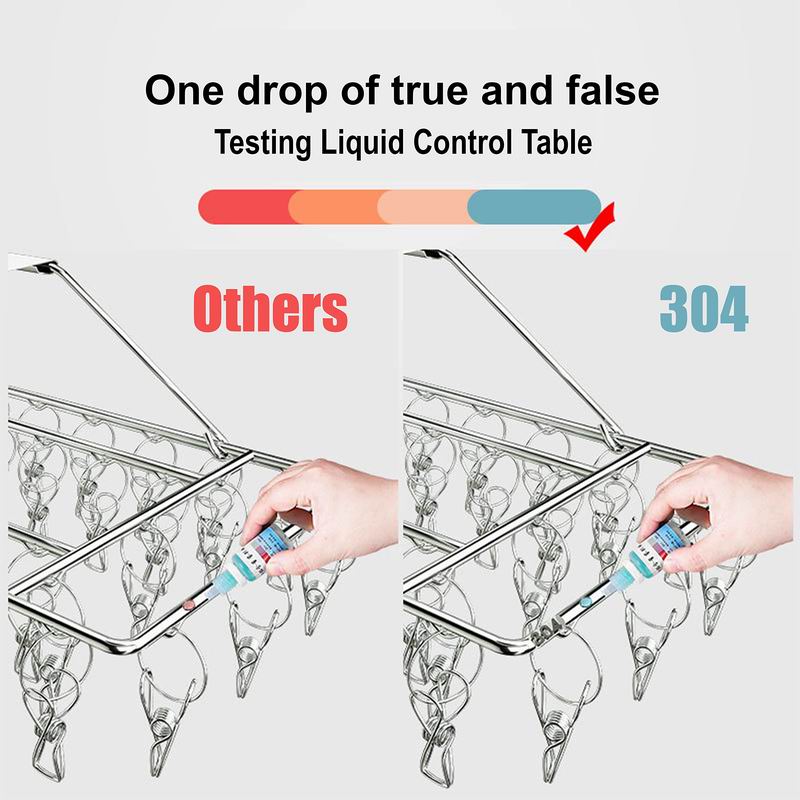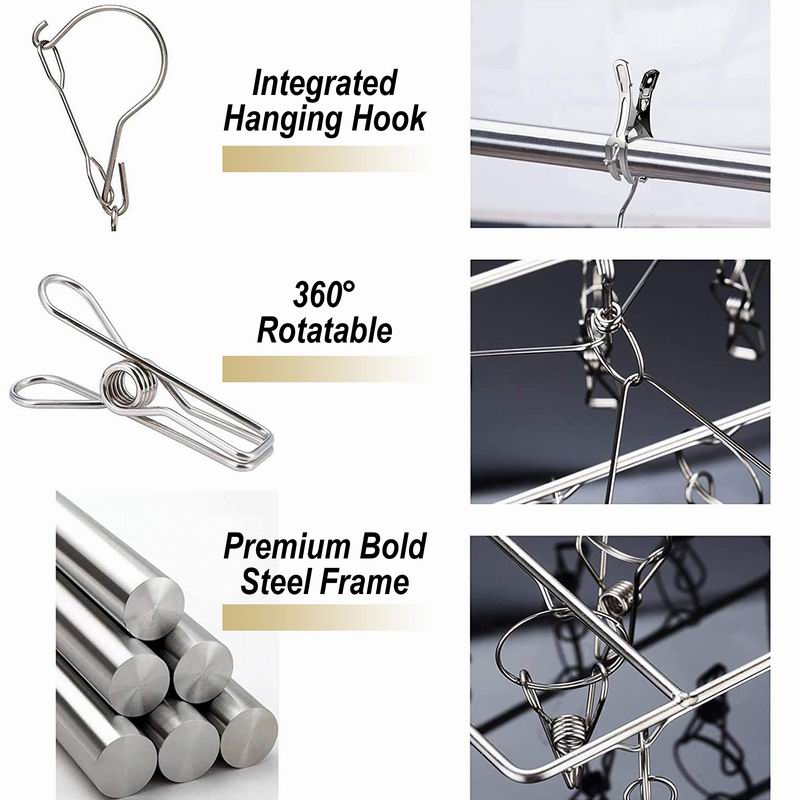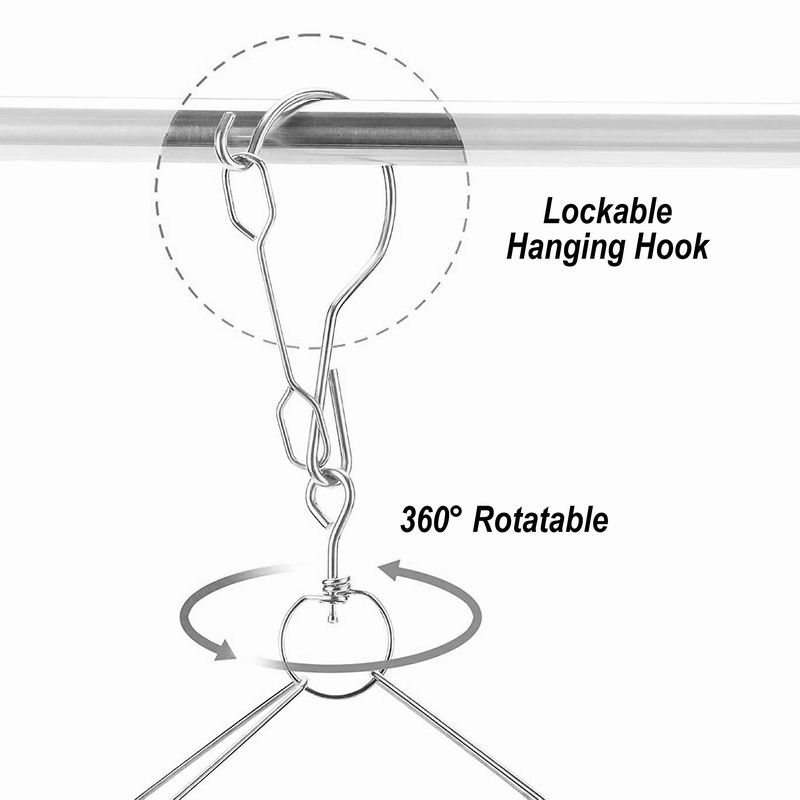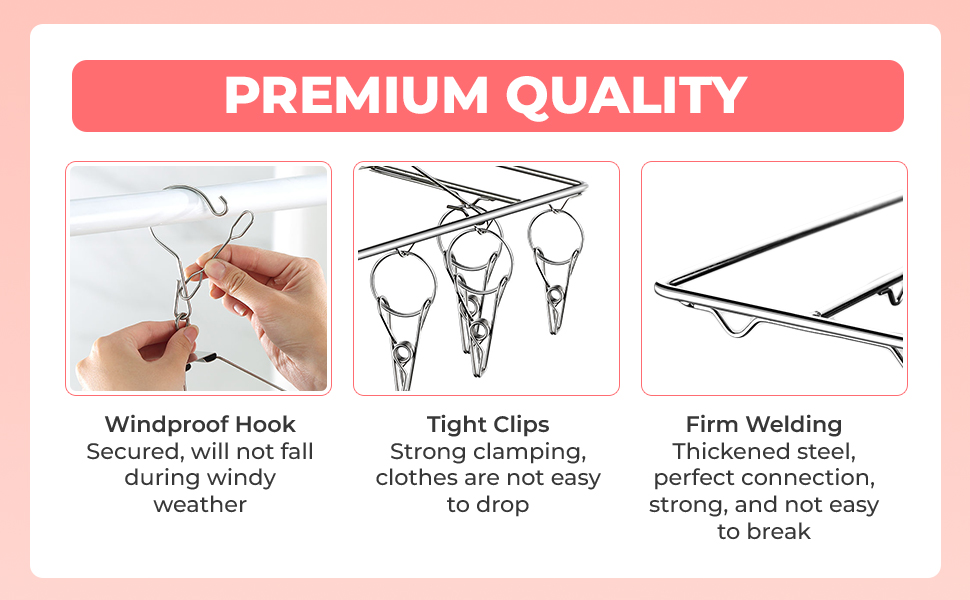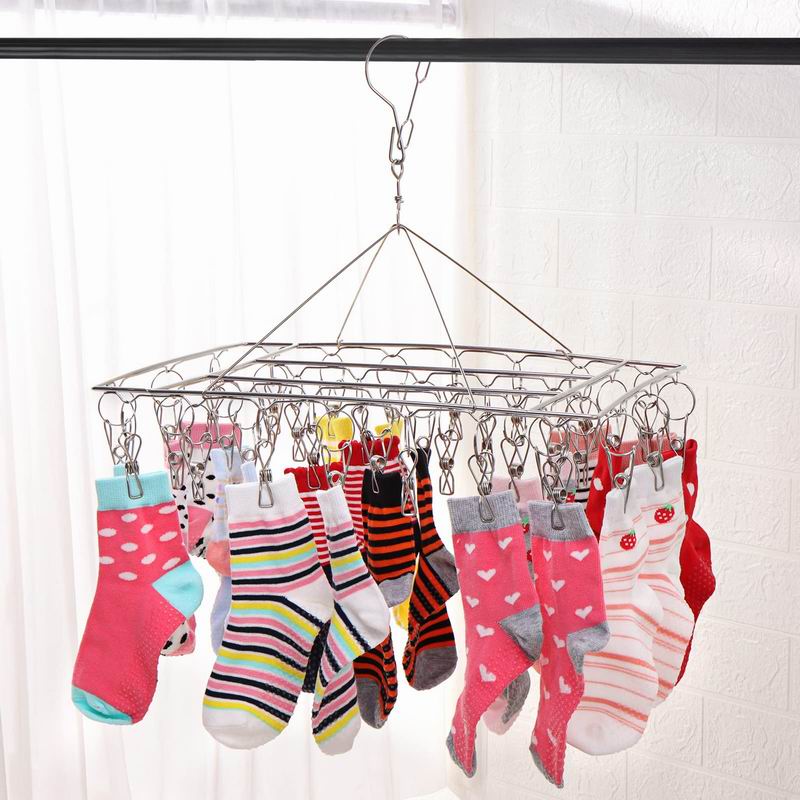 【𝐌𝐞𝐭𝐚𝐥 𝐒𝐨𝐜𝐤 𝐇𝐚𝐧𝐠𝐞𝐫-𝐒𝐭𝐮𝐫𝐝𝐲】This multifunctional sock drying rack is made of premium solid stainless steel,Bold rack,Anti-rust,durable with long lifespan.Unlike other plastic or hollow steel version which will be damaged easily and rust by sunshine or extrusion.This sock dryer will last for many years.

【𝐏𝐨𝐫𝐭𝐚𝐛𝐥𝐞 𝐃𝐫𝐢𝐩 𝐇𝐚𝐧𝐠𝐞𝐫-𝐀𝐧𝐭𝐢-𝐋𝐨𝐬𝐭 & 𝐖𝐢𝐧𝐝𝐩𝐫𝐨𝐨𝐟 𝐃𝐞𝐬𝐢𝐠𝐧】360°Rotation.The windproof Large top hook has an ingenious and easy to use clasp to stop the whole thing blowing off in strong wind.Large windproof hook can hang on the clothesline or clothes rod,don't worry your clothes being blown away.Super strong pegs can hold your socks and underwear tightly,always keep your washing safe to avoid being blown away.

【𝐄𝐚𝐬𝐲 𝐭𝐨 𝐔𝐬𝐞】The sock hanger for washing line is plenty of good strong pegs to hold your smalls and socks.The pegs grip well,even on the thinnest,most slippery fabrics,great for drying your smaller garments/socks and more durable than the plastic ones.Each rack holds plenty of items,and they are far enough apart to dry well even when the sock hanger is fully loaded.Suitable for indoor and outdoor use,you can use this sock peg hanger with ease in the laundry room, bathroom and garden.

【𝐅𝐨𝐥𝐝𝐚𝐛𝐥𝐞 𝐃𝐞𝐬𝐢𝐠𝐧 𝐚𝐧𝐝 𝐒𝐩𝐚𝐜𝐞-𝐬𝐚𝐯𝐢𝐧𝐠】You won't face short of hangers and take up more space problems using these clips dryer hanger!The sock hanger for washing line will work well at home for drying multiple small items.Laundry hanger with 36 clips won't take any floor space,foldable rectangular laundry airer hanger for easy storage.

【𝐌𝐮𝐥𝐭𝐢𝐩𝐮𝐫𝐩𝐨𝐬𝐞 𝐂𝐥𝐨𝐭𝐡𝐞𝐬 𝐇𝐚𝐧𝐠𝐞𝐫 𝐟𝐨𝐫 𝐒𝐨𝐜𝐤𝐬】The sock peg hanger size(36 pegs) approx40(L) x 30(W) x 35cm(H).This sock hanger is perfect for use inside a portable dryer or hang on a shower curtain rod,clothesline or garment rack.Suitable to hang drying for socks,bra,underwear,towel,scarf,hat,gloves,handkerchidf,baby clothes and other small size clothes,it also can be used for hanging dry herbs or flowers.This sock dryer with pegs is a great washing line accessories.

Package Content: 1 x Stainless Steel Hanger with 36 Clips

Notes: 1. Please allow 1-2cm differences due to manual measurement, thank you for your understanding! 2. Due to the difference between different monitors, please understand that the picture may not reflect the actual color of the item.
---
Share this Product
---
More from this collection