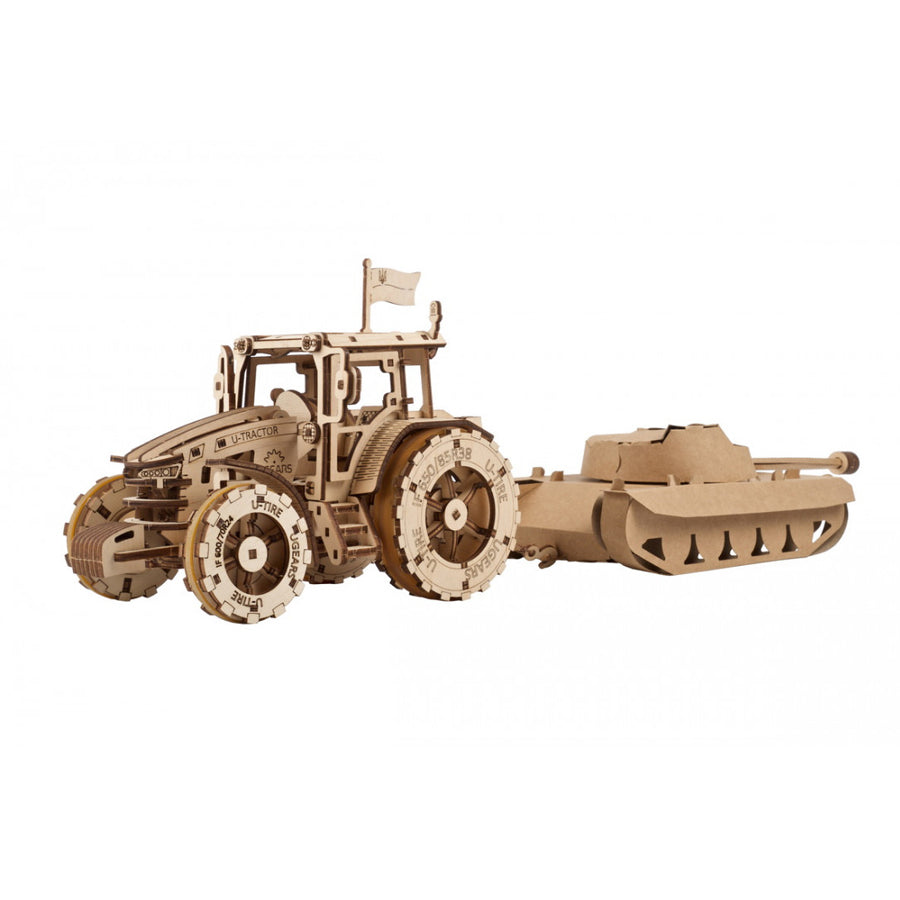 Ugears The Tractor Wins ★Mechanical 3D Puzzle Kit Model Toys Gift Present Birthday Xmas Christmas Kids Adults
---
Model size:
Tractor: 8.7 x 6.5 x 4.5 in
Tank: 13.2 x 5.5 x 3.4 in
Package size: 14.9 x 6.7 x 1.4 in
Number of parts: 272
Level: Intermediate
Assembly Time: 7 hours
Recommended Age: 14+
Kit weight: 1.15 lbs
The Tractor Wins
Assemble me. Be proud of me!
Now you can honor the heroism of these farmers with The Tractor Wins model from Ugears. The model is a two-in-one: a strong, spring-driven wooden tractor, with signature Ugears elegant design and mechanics, and a folding paper tank that can be towed behind the tractor with a tow line. This handsome, powerful tractor is the successor of our original, vintage tractor model and a companion piece, or "big brother" of our Brave UA Tractor mini-model from the "Age of Bravery" series, celebrating Ukrainian defenders throughout history and highlighting some of the standout episodes and stories of the current war.
The wooden Tractor's spring is wound using a key on the underside. A lever in the tractor cab serves as a start/stop switch. When the lever is lowered the force of the spring is transmitted to the rubberized wheels through the gear system, which includes a pendulum to regulate speed. The rear wheels of the Tractor have an overrunning clutch that allows for tighter turns. The Tractor's hatch, doors, and hood can all be opened, while the steering angle of the wheels can be changed by turning them manually. Laser-engraved design features include cool tire sidewall markings and a trident on the Tractor's flag, a symbol of Ukraine's strength, freedom and indomitable spirit, as seen on the Ukrainian coat of arms.
As for the cardboard tank, this can be folded and assembled quite easily, without glue. One advantage of the flimsy material (a first in our collection) used for the tank is you can poke holes or damage your tank in any way you see fit. You can also color your Tractor and tank in colors of your choosing.
The Tractor Wins model kit has 272 parts, including wooden Tractor pieces, cardboard tank pieces, and tow string. Everything you need for assembly comes right in the kit. As with all Ugears DIY models and 3D puzzles you won't need glue or special tools, just assemble the pieces following our illustrated step-by-step instructions in 11 languages (English, Ukrainian, German, Spanish, French, Italian, Portuguese, Polish, Japanese, Chinese, and Korean). The Tractor Wins is an Intermediate level model, so good for those with a bit of modeling experience, and promises approximately 7 hours of enjoyable assembly time. You'll have many more hours of enjoyable playtime as you reenact for your friends and family, grandchildren, nieces and nephews, or neighborhood children, the story of brave Ukrainian farmers getting the better of a superpower's professional military.
---
Share this Product
---
More from this collection